April 23 is both the birthday and death day of William Shakespeare who is known as the greatest playwright in the world. Whether the man from Stratford-upon-Avon was truly Shakespeare is not the point of today's celebration: in the end, it shouldn't matter who wrote his works, only that they are full of human experiences and emotions the likes of which have not truly been captured since.
But I digress – today's blog is all about ways you can make your inner Bard-lover happy without diving into an encyclopedia or reading one of his plays. Maybe one of these items will appeal to you, even if you're not a Shakespeare fan! This list is by no means complete, but here are just a few things you can look at to celebrate the 23rd: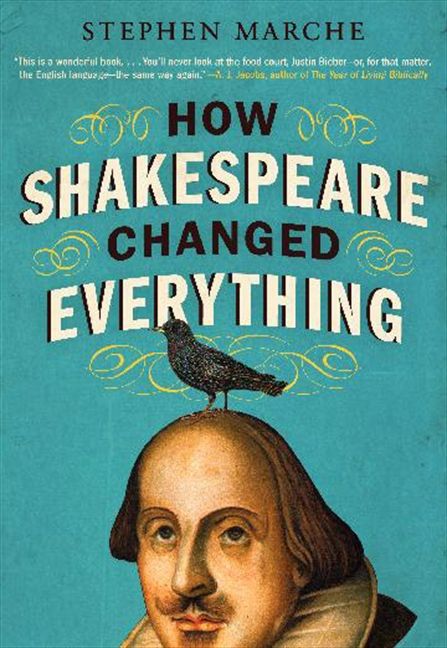 How Shakespeare Changed Everything, by Stephen Marche: A hefty title, to be sure, but one that's accurate. The Bard's writing has influenced our current culture a great deal, from the words in our dictionary, to the names we give our children. Politics, history, psychology: all has been changed, thanks to his works, and this little book gives a thorough and easy-to-read look through the changes. You can EZBorrow it by logging in with your Eastern ID number.
William Shakespeare's Star Wars, by Ian Doescher: Some would say Mr. Doescher has too much time on his hands – I say, keep it up! This wonderful blend of Shakespeare and Star Wars is exactly what it sounds like – the Star Wars movies written completely in Shakespearean play format, with characters speaking in iambic pentameter and featuring wonderful illustrations like the one to the left. We have Episode 4, Verily, A New Hope, at Warner, but the others can be EZBorrowed.
Something Rotten! by Wayne Kirkpatrick: I had the pleasure of watching this play at the Academy of Music last month, but reading the musical score is the next best thing. A parody of all sorts of things, Something Rotten! tells the story of brothers Nick and Nigel Bottom and their attempt to beat Shakespeare to writing the best play in Renaissance England… It goes just about as well as you'd think. If you can find clips of the play on YouTube, give it a watch, it's definitely worth it!
To Be or Not To Be: A Chooseable-path Adventure, by Ryan North, William Shakespeare, and You: Ever wanted to change the ending to Hamlet? Well, here's your chance! You start by choosing a character – Hamlet, Ophelia, or Hamlet Sr. – and you follow different choices to reach a variety of endings, which range from ruling Denmark as a tyrant, becoming a pirate, or losing your consciousness to a trout. Each ending has its own unique artistic rendering, after which you start again, and again, with literally thousands of possibilities. A follow-up, Romeo And/Or Juliet, was published in 2016.
Slings and Arrows (Season 3), by Acorn Media: There are plenty of film and television adaptations of Shakespeare (looking at you, Kenneth Branagh), but this Canadian television series is one of the more clever, not immediately recognizable adaptations out there. The show takes place in the New Burbage Festival, a theatre company that's headed by a man who sees his former boss's ghost on a daily basis. Each of the three seasons reflects the plot of a different play; the third season, owned by Warner, is King Lear-based. You can find this season at the Shakespeare display outside the Media Room.
If you can think of other unique Shakespeare-themed items, please let us know in the comments below! Happy Bard Day!